How Marketers Make the Most of Native Advertising for a Successful Media Mix Strategy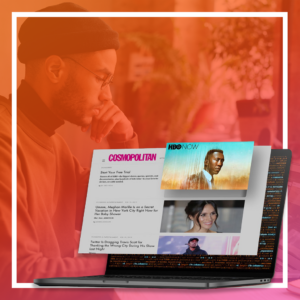 Authored by: Evon Hung, Senior Analyst, Product Research
This is the first entry in TripleLift's three-part Ultimate Guide to Native Advertising series.
Success is a multi-faceted word. In practice, it's a positive result or metric. On a deeper level, it's a concept that provokes existential exploration: what exactly equates to success? How do we best measure success? French philosopher Montesquieu once claimed that success depends on knowing how long it takes to succeed, which happens to be a great perspective for advertising.
Success Measured Beyond CTR
A successful ad campaign can be measured in a multitude of ways. Once a campaign concludes, wrap reports frequently start and end with whether the click-through-rate (CTR) was achieved, if viewability met expectations, and whether the cost-per-click (CPC) surpassed benchmark norms. While campaign KPI metrics are important, it's equally, if not more vital to also consider and contextualize the story that surrounds the lift or decrease of each metric.
Simply put—there is more to measuring success than CTR. When consumers interact with content and a native ad, a low CTR may be outweighed by high average time viewed. The consumer may be so engaged with the content that they would prefer to continue reading rather than click out. Clicks don't reflect this behavior, but the holistic performance story leads to increased brand loyalty, favorability, and consideration. Now that's success.
Native Ads Captures the Crux of Consumer Engagement and Attention
Impactful and optimal advertising takes time. Building a dynamic relationship with the consumer naturally leads to attention, engagement, and ultimately action. Advertisers must effectively speak to the consumer throughout the funnel in an approachable and authentic way; while simultaneously creating opportunities for them to interact with the brand. The first step is generating awareness. So, how can advertisers structure their media mix to hit the ground running? By considering the overall user experience and retention rate.
When scrolling a website, consumers are selective with their attention, dodging visuals they perceive as ads, leading to banner blindness. Native is the perfect solution in this environment thanks to its seamless design, performant nature, and customizable elements. Native ads actually garner 2x higher click through rates than traditional banner ads, effectively and efficiently earning the consumer's attention, while creating an opportunity for them to interact with the brand or product.
The Perfect Pairings for Programmatic Native, Banners, and Online Video Advertising
Beyond awareness and guiding the consumer down the funnel, it's important to generate consumer retention of the brand or product in tandem. Capitalizing on speciality ad formats designed to encourage engagement is a great way to retain interest and achieve purchase consideration. Online video solutions are designed for brand recall, favorability, and to further captivate viewers. But when paired with Native, In-Stream drove statistically significant increases in purchase intent and message association (source: TripleLift & Kantar MWB Brand Lift Study 2021). In a separate TripleLift campaign, a CPG brand ran a campaign that included Branded Video, Native, and Display ads that lead to considerable lifts in return on ad spend and incremental sales, over 2.5x the industry benchmark norm. (source: TripleLift & Kantar Catalina Sales Lift Study, 2022). These successful campaigns incorporated two or more complementary formats in a strategic power play, increasing perception, attention, and engagement of the brand. In other words, pairing suitable and compatible formats can directly lead to consumer purchase action.
A common myth is that activating campaigns with only one ad format achieves the highest return – in reality, doing so actually prematurely caps the return on investment. While each specialty ad format has its strengths, a strategic mix of formats is greater than the sum of its parts. Native ads seal the deal in kindling conversions and producing real, actionable results, as long as they are expertly customized, optimized, and blended strategically into your media mix. Learn more on how to best activate programmatic Native.
Omni-channel Campaigns that Include Native Ads Generate Impactful, Optimized Results
When on a budget, native meets advertisers where they are, providing full optimization solutions that drive real results. It's a format designed to reach consumers at the sweet spot of engagement and attention, while delivering on key performance indicators. By maximizing the custom capabilities and audience targeting of Native, and pairing it with other specialty formats like Display, Online Video, or CTV units, your media mix will greatly increase consumer interest, while catering to specific campaign goals like awareness or favorability.
Good things take time, but great things take a little longer. In order to achieve greatness and secure long term success, TripleLift can help you achieve the perfect omnichannel strategy that hits all your KPIs, not just in the short term, but for quarters to come—starting with programmatic Native.
Download our latest white paper, The Ultimate Guide to Native Advertising to learn more on how to activate.
The post How Marketers Make the Most of Native Advertising for a Successful Media Mix Strategy appeared first on TripleLift.